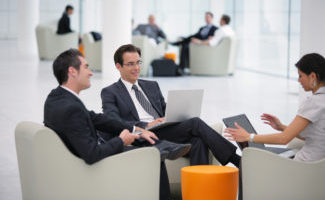 Get a clear understanding of the corporate banking definition and how to open a bank account and the benefits to customers.
The Definition of Corporate Banking
Corporate bankers serve corporations and include services like issuing of bonds, stocks, cash management, underwriting and financing. Most of the financial institutions usually maintain different divisions for the purpose of handling needs that the corporate clients have which are separate from the activities of retail banking or the consumer for the individual accounts. It is possible for you to open a corporate banking account. Read below about setting up a corporate account and of the benefits that you can enjoy.
How to Open a Corporate Banking Account
Commercial banks normally offer such accounts. Such may be referred to as corporate commercial services. For starting the relationship, it is necessary for you to choose one bank and then bring to it the certificate of incorporation issued by the state, as you do for commercial banking. It is also necessary for signing up for the Federal Employer Identification Number. It may not be necessary for you to be in need of EIN for the purpose of taxes but you may be in need of that for the purpose of banking. From the side of the company you will need to pass the corporate banking resolution that can state specifically about bank account.
Benefits of a Corporate Bank Account
There are many advantages that you get when you have a proper corporate banking account. They provide deposit services as well as business loans  and real estate financing for business operation. There are chances for you to have more finance accounts for varying needs when your company starts growing. Corporate banking customers may also use this for getting some funding at the time of any financial crisis. They can secure special term loans for trade finance and business operations. Corp banking interest rate can also be much affordable. Customers receive special treatment when doing transactions. The banks provide service by designated staff who are specially trained. These banks serve customers separately from the regular customers.
Learn More on Corporate Financial Services:
Corporate banks offer various financial services including asset management, portfolio management and more. Other corporate banking services include investment banking, capital finance and corporate finance. Such bank may also serve as a financial advisor, and may handle strategy investment and initial public offering. They do any such investment banking product for small business as well as for large corporations. Contact us to learn even more on the topic, or buy corporate banking books at amazon at great prices. Read also the privacy policy.